Faith and Spirituality
Counseling & Psychotherapy in SLO / the Central Coast / California

"Let us love one another, because love is from God. Everyone who loves is born of God and knows God. Whoever does not love, does not know God, for God is love." Apostle John
Don't let anyone tell you different!
If you're seeking a therapist who can respectfully and positively integrate your faith or spirituality into your therapy process, or if you're curious or struggling with the meaning of faith or spirituality in your life, then I am the therapist that can help you.

I'm Erik Edler, a therapist / counselor who values faith and spirituality, and believes it can be a healthy and positive aspect of our whole being. I am located in San Luis Obispo (SLO), and am accessible from across the Central Coast. Faith and spirituality are such deep dimensions of a person. They need not be limiting or confusing. You just start where you are and seek truth; in time you'll find your way.
In our therapy work together, I can help you with issues such as depression, anxiety, trauma, PTSD, relationship issues, couples counseling issues, and issues specific to the LGBT gay and lesbian communities. If you have a faith or spirituality perspective that is important to you and needs to be integrated into your therapy process, that's something that I'm happy to do. Or if you'd like to incorporate faith or spirituality into your counseling / psychotherapy / coaching experience but you don't know how, I can help you get started.
Have you experienced religion as a harsh or controlling force in your life? Would you like to become more spiritual, but you feel confused and ambivalent about religion? Has a strict upbringing left you with feelings of shame or guilt? Are you simply seeking to grow deeper at this point in your life?
Whatever your faith or religious background, you can find a healthier, more uplifting spiritual life when you clear away the cobwebs and the fog, and all the negative ideas that may have been imposed upon you. We are all on a path from less light to more light; I would be happy to walk alongside you on your journey of exploration.
"Religion is meant to teach us true spiritual human character. It is meant for self-transformation. It is meant to transform anxiety into peace, arrogance into humility, envy into compassion, to awaken the pure soul in man and his love for the Source, which is God." Radhanath Swami
The Atlantic Magazine: January/February 2017:
"Awesomeness is Everything: Why encountering vastness makes us more spiritual, generous, and content." By Matthew Hutson
Matthew Hutson's article in the Jan/Feb 2017 issue of the Atlantic talks about the experience of Awe as the essential component of all spirituality, and of ultimate wellbeing. He writes, "Psychologists have described awe as the experience of encountering something so vast -- in size, skill, beauty, intensity, etc. -- that we struggle to comprehend it. A waterfall might inspire awe; so could childbirth." People may say that religion is about control, and that it's the source of so much conflict in the world. I believe religion can be used for good or for wrong; we've seen that both can be true, but we see that it depends entirely on both the leadership and the membership. Nevertheless true spirituality, regardless of religion, will always exist, in the deepest parts of each individual person, so long as people can still experience Awe.
Quoting from the article: "Awe makes spiritual and religious people feel a greater sense of oneness with others. Researchers found that inducing awe -- say, by having people stand in a grove of tall trees -- increased generosity, life satisfaction, willingness to donate time to charity, and preferences for experiences over material products."
"In an analysis of 56 astronauts, their memoirs, interviews, and oral histories, the astronauts appeared to experience increases in spirituality and universalism -- that is, the belief in an interconnected humanity."
As long as human beings can experience the emotion of awe, or the mental experience of wonder, there will be those who see or feel the subtleties of the transcendent, and they will want to become seekers. Psychotherapy can do a tremendous amount to bring mental health and healing to those are are troubled by depression, anxiety, or relationship struggles. Counseling and coaching can be enormously helpful in setting goals and achieving the full potential of our lives. But to reach that state of truly great happiness, that's where spirituality comes in. In a nutshell, the bad things that happen, happen to force us to rise in consciousness. I love the Quaker concept of the Inner Light; that each individual person possesses the Inner Light. It refers to the idea of God's presence within every person and each person's ability to experience the divine.

The great psychologist Carl Jung said, "The spirit of evil is the negation of the life force by fear. Only boldness can deliver us from fear."
If you are seeking a therapist that respects your spirituality, whatever form that may take, or you're looking for someone who can help introduce you to these ideas for the enrichment and betterment of your life experience, then you've come to the right place. I would be happy to join you on your journey, where ever you begin and where ever you are heading.

Please feel free to contact me with any questions you might have about how your faith or spirituality can be incorporated into your therapy or counseling, or how we can sort out the difficulties within your faith or spirituality. I am able to meet with local clients in person, but I continue to see many clients by video as well. Let me know what you prefer and we can talk about our options. In addition, I can see clients from any part of California by video.I would be happy to help. Please feel free to call me at 805-868-0767. Erik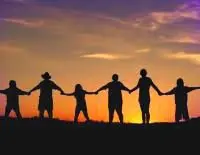 ---
My Areas of Expertise - please click on the links below: