Gay & Lesbian Counseling
Counseling & Psychotherapy in SLO / the Central Coast / California

This is a time of both challenge and opportunity for gay and lesbian people. In these uncertain times, it's more important than ever to be a healthy individual and a healthy couple.

Are you gay, lesbian, or bisexual, and looking for a therapist who gets you and supports you? I provide counseling and psychotherapy for the issues that are specific to the LGBT gay and lesbian communities. I have 20 years of experience working with gay and lesbian clients and couples. I'm Erik Edler, LMFT, located in San Luis Obispo (SLO), and I am happy to serve the LGBT gay and lesbian communities of the Central Coast.
Gay and lesbian issues are an area of therapy where finding a therapist you "click" with and trust is an even more important and fundamental part of therapy, since it is the foundation for all the work and growth that follows. Lesbian and gay clients can rest assured that they have found an understanding, supportive, and affirming therapist with me. Please click on any of the topics listed below for more information on my areas of specialization.
In the field of psychology, we believe that having any part of your true self repressed or split off is bound to give rise to anxiety, depression, relationship issues, or other difficulties.
It's up to you to decide how you want to express your sexuality, and to do so wisely and well, it will require some thought and reflection. Therapy provides a confidential, supportive environment to explore the issues you may have concerning your sexuality. I am a Central Coast therapist who can help you work through your feelings and find answers to your questions.
I am here to help you explore, discover, understand, and work through your sexuality, wherever you may fall on the spectrum of sexuality. If you're working on coming out, if you feel lonely, struggle with self-doubt or low self-esteem, have questions about your sexuality, or wonder how to live your best and most fulfilling life, I would be happy to talk with you and provide the help and support that you need.
"Have enough courage to trust love one more time, and always one more time."
–Maya Angelou
Please contact me by phone or by email with any questions you might have. I am able to meet with local clients in person, but I continue to see many clients by video as well. Let me know what you prefer and we can talk about our options. In addition, I can see clients from any part of California by video. I would be happy to talk with you, and I offer a free 30-minute phone consultation, feel free to call me at 805-868-0767. Getting good support and guidance at this time in your life may be the vital piece you need for going forward into a happier and more confident way of life.

Erik E.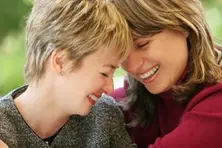 My Areas of Expertise - please click on the links below: